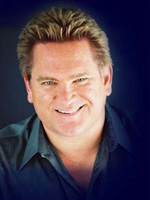 SOA Conductor and Composer-Extraordinaire Charles Fernandez is a native of New Orleans, Louisiana, and an award-winning composer. Composing since 1989, he is a well-known orchestrator of film, television and the concert hall, including Disney, MGM, and Artisan films plus several Disney television series. Charles has written for shows such as Bonkers, Doug, Toonsylvania, Casper (for which he received two Emmy and one Annie nomination), the Aladdin series, the Mermaid series, the 101 Dalmatian series and Robot Chicken among many other. Among the films he has contributed to are All Dogs Go to Heaven II, All Dogs Christmas Carol, Alvin and the Chipmunks meet the Wolfman, Alvin and the Chipmunks meet Frankenstein, Pebble and the Penguin, Babes in Toyland, Tom Thumb and Thumbalina, Tom Sawyer, Jingle Bells, The Tangerine Bear, Doug's 1st Movie and The Butterfly Effect.
Charles has written concert and chamber music as well, including two commissions for the Cal State University Northridge (50th Anniversary and LA Bach Festival), Redlands University, Loyola University (New Orleans), San Jose Community Band, Idyllwild School of the Arts, The Los Angeles Winds (Concert Band), San Fernando Valley Symphony as well as commissions from individuals including Francisco Castillo (Oboe), Helen Goode (Clarinet) and Jennifer Bliman (Horn).
SOA Flute Orchestra is fortunate to perform many of his flute orchestra works including: Closer Walk, Basin Street Blues, Elegy for Oboe (2nd movement of the Oboe Concerto, written in memory of his father) and his John Williams Fantasy Medley arrangement. SOA Members are overjoyed to be guided by the excellent musical direction of Chuck!
Charles Fernandez Interview