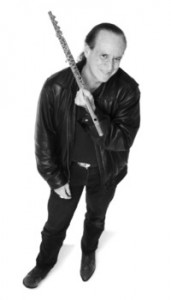 Song of the Angels Flute Orchestra Artist in Residence,  David Shostac, Principal Flute of the Los Angeles Chamber Orchestra, performs as solo flutist in Corelli's Christmas Concerto, Saint Saens' "Benedictus", the Ave Maria and Tchaikovsky's Nutcracker Suite plus his own arrangement of Debussy's "The Afternoon of a Faun" accompanied by the Song of the Angels Flute Orchestra. An alumnus of Juilliard and Tanglewood and recipient of two Rockefeller performance grants, David is also a relative of the great Russian composer, Dmitri Shostakovich. A former member of the American Symphony Orchestra under Leopold Stokowski, Shostac has performed with the Boston Symphony (Seiji Ozawa, Erich Leinsdorf and Eugene Ormandy) and LA Philharmonic (Zubin Mehta). In reviewing his recent Vivaldi CD, Eugenia Zukerman wrote "Shostac's range of colors, his embellishments and his gorgeous tone are simply astonishing."
David has collaborated as a featured artist with conductors Sir Neville Marriner, Jean-Pierre Rampal, Gerard Schwarz, Claudio Scimone, Karl Richter, Helmut Rilling, Jorge Mester, Henryk Szeryng, Jeffery Kahane, and many others. Solo appearances have included the Hollywood Bowl, Lincoln Center's Mostly Mozart Festival, the Casals Festival of Puerto Rico, the Aspen Music Festival, Ojai Festival, Stratford (Ontario) Festival, Carmel Bach Festival, and four National Flute Conventions. "Extraordinary, dazzling, world class" and "a musician of the highest order" are words critics have used to describe his artistry. An alumnus of The Juilliard School and Tanglewood and recipient of two Rockefeller performance grants, he has also served as principal flute of the St. Louis, Milwaukee and New Orleans symphony orchestras.
SOA Members are delighted and honored to have David's friendship and association!
KUSC Interview (March 2016) below: